The San Francisco Bay will host the 34th America's Cup in 2013 with preliminary rounds for the Louis Vuitton Cup in summer/autumn of 2012. This will create a huge construction program which in simple terms is a mammoth undertaking. The first of which would be the transformation of Pier 27 which will be "America's Cup Village". "It will be a gathering place where race fans can view the tournament, shop, and eat" according to Eric Young for the San Francisco Business Times.
The San Francisco economy will be given a possible multi-billion dollar influx in spending. Over 8,800 new jobs will be created in order for America's Cup to be ready by the deadline required. Also "America's Cup has set a goal of using San Francisco based small businesses 30% of the time in contracts of at least $150,000". Great for the City and its residents.
"The event will cost a whopping $300 million, $32 million of which will be raised by the nonprofit America's Cup Organizing Committee on behalf of the City. But according to the San Francisco Examiner, members of the committee have kept quiet as to how they plan to raise such a sum, and some City officials show little concern. "That's always been an overarching concern," Supervisor David Campos told the Examiner, noting that taxpayers would be forced to pay the leftovers should the committee fail to meet its fundraising goal.
It hasn't exactly been smooth sailing for the America's Cup executive team either. Last month, the San Francisco Business Times reported that even CEO Craig Thompson left the organization as a result of "lackluster financial performance, Richard Worth chairman of the America's Cup Event Authority, will replace him."
Click Here for more on the CEO shake up.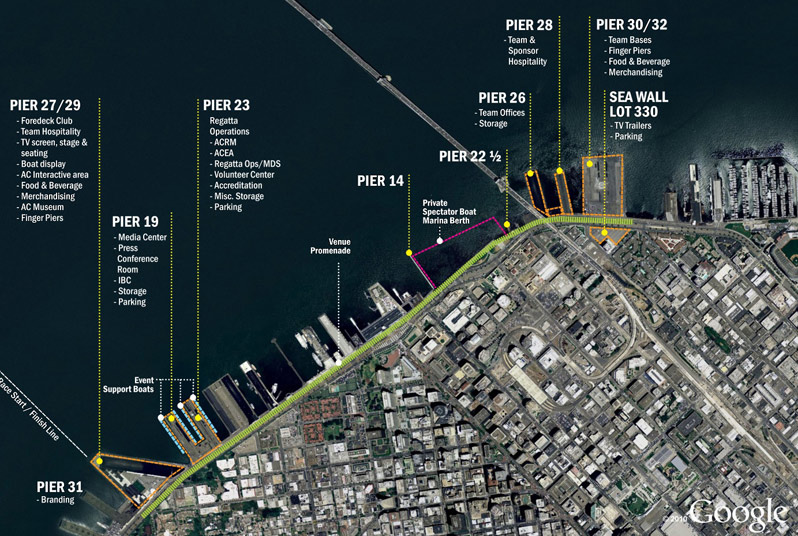 Projected Plans for the City 1
Projected Plans for the City 2